Spring Soccer League Registration Opens February 1!
EDW Parks and Recreation's spring soccer league registration opened February 1. Registration for soccer will remain open for the entire month of February. Payment in full must be made at time of registration.

Cost:
Kindergarten League (Kindergarten down to 4 years old) - $30.00
1st/2nd Grade - $55.00
3rd/4th Grade - $55.00
5th/6th Grade - $55.00

If you register by Sunday, February 16, you will receive a $10 early bird discount for 1st - 6th grades and a $5.00 early bird discount for Kindergarten. If more than 1 child is playing, your will receive a sibling discount of $5.00 as well.


T-Bones Summer Ball Awards Night Tickets Now Available
Edwardsville Parks and Recreation's Annual Summer Ball Awards Night with the T-Bones is scheduled for Thursday, July 11. Each registered participant and coach will receive a FREE berm ticket to the game. Along with the game ticket, each player/coach will also receive a free tailgate meal in the left field parking lot prior to the game. Additional tickets are available for purchase for family and friends. Ticket upgrade options are available if you would like to upgrade your child's berm ticket to a select seat for just $5.00. To order tickets, please CLICK HERE! Ticket orders must be placed NO LATER than Monday, July 1.

Edwardsville Parks and Rec to Host Winter Basketball League!
EDW Parks and Recreation will be running a Winter Basketball League in cooperation with Turner Rec beginning with practices in November.
The league will consist of the following age groups:
Pre-K/Kindergarten Instructional league held on Saturdays
1st/2nd grade Games on weekends (January/February)
3rd/4th grade Games on weekends (January/February)
5th/6th Grade Games on weekends (January/February)


To register, click not the REGISTER button at the bottom left of the HOME page.


EDW Parks & Rec Soccer Partners w/T-Bones: Stadium Series Announced!
Edwardsville Parks & Rec is excited to announce a partnership with the Kansas City T-Bones Baseball Club that will bring the T-Bones Stadium Series at Community America Park to the soccer program in the fall of 2015! Teams from the Edwardsville, Basehor, Piper and Turner soccer leagues will play a league game on the Community America Park outfield that will hold 2 soccer fields that play simultaneously. Edwardsville Parks & Rec has been working on this event since November of 2014, and was just finalized today, Monday, March 31, 2015. The Parks & Rec staff would like to thank the Kansas City T-Bones Baseball Club, GM Chris Browne and Stephen Hardwick, Assistant Director of Group Sales for their perseverance and flexibility in bringing this event to fruition.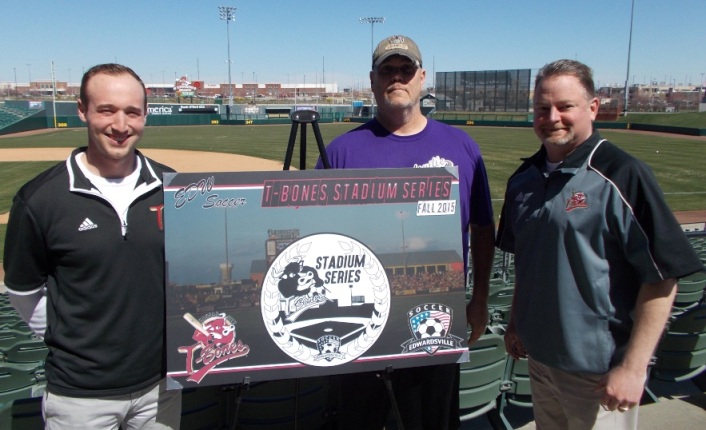 -----------------------------------------------------------------------------------------------------------------------